Dell has just realised the XPS One 27 to take on Apple's iMac. This PC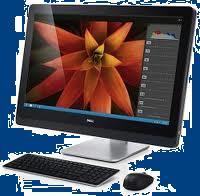 is considered the first serious competition to Apple's iMac from any manufacturer. It has a great line up of top end features that will make most PC owners lust for it.
It comes with a larger 27 inch "Full Quad HD" screen with a resolution of 2560-by-1440, which provides an amazing viewing experience. The XPS One 27 also comes packed with Intel's latest Ivy Bridge processors, which will provide a supper slick experience. The 2TB of storage it has will be enough for even the most demanding user. This PC also comes with a 16GB of RAM, that will provide you with a ultra smooth experience with no glitches, there is even a option to select discrete graphics card to further boost your multimedia experience.
This PC blows Apple's iMac out of the water in a number of ways, firstly Apple comes with a slower Intel quad-core processor which is based on the chip maker's older Sandy Bridge architecture. If you buy a XPS One 27 you get a larger screen 27 inch screen vs the 21 inch screen that you get with the iMac's cheapest model.  Apple's iMac also looses out on the price front too, it for example has a starting price of $1,699 vs $1,399 for the XPS One 27.
Its important to note that this battle does not ultimately come down to hardware, operating systems will have a large influence on the buyer too. When the XPS One 27 release is combined with the release of Windows 8, which is just around the corner it might just be enough to persuade many avid Apple users to come into the Windows fold. 
The XPS One 27 is out now in the US and some Asian countries. It is expected to be released in other countries around the world within a few weeks.