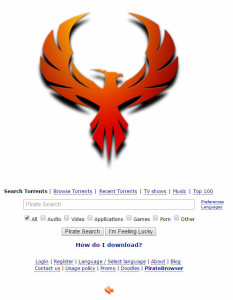 The Piratebay is back online after being shut down by police back in December and according to a website called Torrent Freak, thePirateBay came back online on January 31st which was ahead of its planned launch date which was for February 1st.
However after it was raided and closed down back in December by Swedish police other torrent sites came to fill the voice such as Kickass torrents and isohunt.
The home page of tpb does now feature a symbol of a Phoenix, which is symbolic.
It's worth pointing out that at the moment ThepirateBay does not appear to have everything operational for example, the website does not display any ads and The "Contact Us," "RSS" and "Register" links are not operational which results in a 404 error when trying to access them. However the website overall does look and feel the same as it did before it was closed down. 
It seems like the data loss is minimal on the website. The latest upload appears to be on December 9 last year, that was on the same day the website was closed down by the police.However it is experiencing some dropouts at the moment which is probably due to the huge amount of traffic on the website. It will be interesting to see if tpb can reclaim its spot as the king of the torrents sites.
You can access ThePirateBay here