The outgoing chief financial officer of Microsoft Peter Klein has hinted that the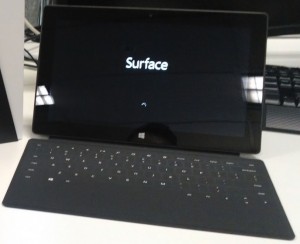 firm could be soon entering the burgeoning 7-inch tablet market. 
He says that during the firm's third-quarter earnings call that "smaller touch screen devices running the Windows operating system are due to arrive on the market "in the coming months". 
He also pointed out that "a new suite of small touch devices powered by Windows" will be competing soon with the likes of the iPad mini and the Google Nexus 7, according to CNET.
His comments seem to appear to support a recent Wall Street Journal report claiming that Microsoft has already begun work on a tablet device with a 7-inch display.
It worth pointing out it not been officially confirmed whether Microsoft will develop the product itself, its recent move into the tablet hardware market with Surface indicates that this could indeed be a possibility.
Microsoft needs to bring out a 7 inch tablet as soon as possible, because that's where the consumer demand seems to be coming these days.  Just look at the success of the iPad mini Kindle fire Nexus 7 for evidence of this. Its vital that Microsoft crash that party soon.