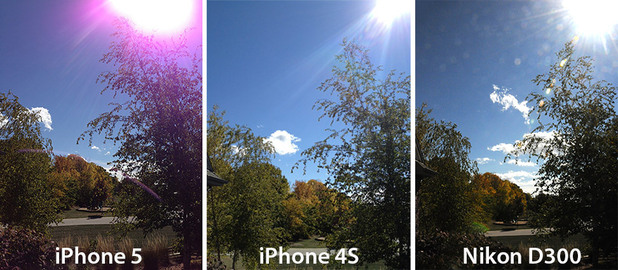 Courtesy of Mashable
The iPhone 5 was first launched just over a week ago. Flaws have emerged in the iPhone 5, these flaws range from these phones being bought new with scratches to purple flares appearing in photos that have been taken near to a bright light or the sun. Some users have reported that they have found light leakages coming out of the casing on the white version of the device. This is problem seems to be occurring between the display glass and the aluminium antenna. According to the website BGR, there is a small small crack on some new iPhone 5 units located just below the power button is causing the light leakage.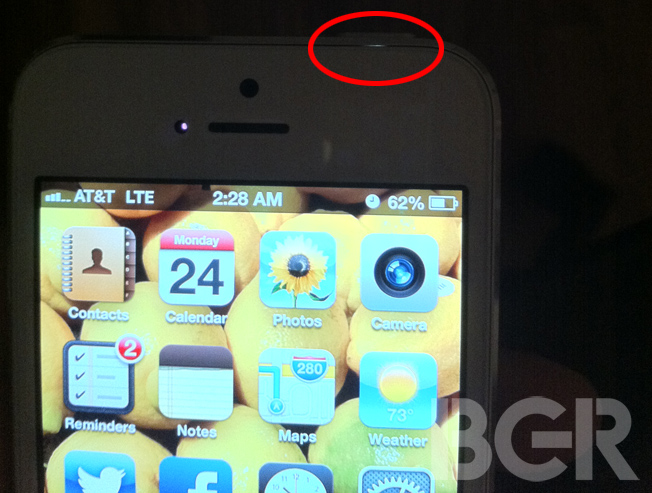 Users have also found even when the phone is shipped in perfect condition. It is not long until the first scratches emerge on the  black model, According to AllThingsD it seems to scratch more easily than the white model that is due to the fact that the iPhone 5's case is made out of anodized black (coated) aluminium, which is why it is also lighter than its predecessors, the iPhone 4 and iPhone 4S. However the white version still does scratch more easily than the iPhone 4 and 4S that due to the material being softer than previously used materials. 
On the MacRumours forum, one user who has been affected by the iPhone 5 scratch gate issue makes a valid point by stating: "If I were selling this phone on eBay or to Amazon or some other third party place, they would ask for the condition of the phone. I would only be able to list it as used/good (even though it is brand new) and the buyer would therefore not give me full retail price right?
"So why then should anyone else expect me as the consumer/buyer to give Apple the full retail price of a phone that is only in good condition? This is the real crux of the matter… You should not expect a like-new product to look used."
If your still interested in buying the iPhone 5, avoid the black version and pre check it in the shop for any flaws before buying it, otherwise it will mean an unnecessary journey back to the shop for an exchange.  
Apple are currently looking into all the problems that have been raised. Hopefully they will begin shortly to resolve these problems as quickly as possible. Lets hope for Apples sake the camera purple flaring issue is only a software issue. If it is a hardware issue that relates to the new sapphire crystal lens cover that they now use, they will have to have a product recall that will likely cost them millions and a lot of bad publicity.