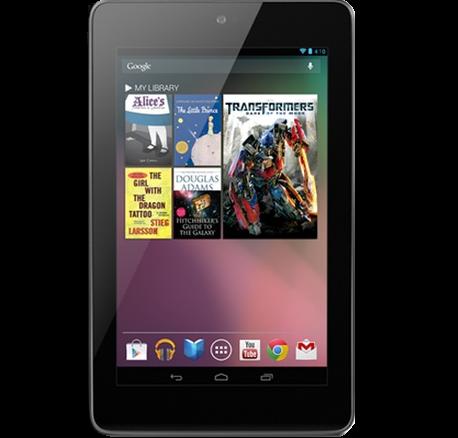 Google has announced it is to release a tablet called the Google Nexus 7 soon, which has been a collaboration between Google and Asus.  This tablet will be powered by Android Jelly Bean, which is the latest version of Android to be released. The Nexus 7 will have a 7 inch screen that has a resolution of 1280-by-800 pixels resolution that represents a pixel density of 216, it's also comes packed  with a Tegra-3 chipset, quad-core CPU,12-core GPU and 1GB of ram. These chips will provide the user with a super sleek experience what ever you choose to throw at it. The tablet also weighs in at a very reasonable 340 grams or 3/4's of a lb. 
The other features will include NFC technology a 1.2MP front facing camera, micro phone, Wi-Fi connectivity, bluetooth support and it will be the first tablet to come preloaded with Googles Chrome browser, which has been specially optimised for a tablet. The Google Nexus 7 4325 mAh battery promises over 8 hours of running time, which is excellent.
The Google Nexus 7 can be bought for $199 (£159) for the 8GB model or $249 (£199) for 16GB.
This tablet simply blows away the competition within it's target market, such as the Kindle fire and the the Barnes & Noble Nook tablet. It is not only lighter but it also comes in a thinner form factor too than these tablets. The nexus 7 also beats off the competition when it comes to the resolution of the screen, the resolution of 1280-by-800 pixels resolution that represents a pixel density of 216 simply cannot be matched.   This tablet is also the fastest in the field too thanks to the lightning fast 1.3GHz quad-core processor. 
This tablet offer great features for it's price, if you buy it you will not be disappointed. Because it seems to offer what people want most in a tablet which is small form factor, great performance and battery life.
 The only negative points that can be found with this tablet is that it does not have an expandable memory slot, this could hinder the devices capability.  It's worth also noting that Google s Android OS for tablets still does not offer the same of amount of apps as iOS does. Android does also lack in polish too compared to Apples iOS, but it is catching up fast on these fronts with Apples iOS in leaps and bounds as time goes on.     
This tablet can be now pre-ordered through Google Play. It will be available from Mid July in the US, Canada, Australia and the UK.